Investing in ETF

Amundi Prime ETF
Amundi Prime ETF: the next generation of low cost ETFs
Access to the next generation of ETFs starting from 0.05% OGC1 only
With low fees from 0.05%1, we offer investors a prime advantage in building an ultra-low cost portfolio in the simplest possible way. Discover Amundi Prime ETF range benefiting from Europe's largest asset manager2 expertise and bargaining power.
Why Amundi Prime ETFs make building portfolios easy
New regulations and a drive towards greater transparency – especially on costs – have inspired us to offer investors Europe's lowest cost ETF range3. Amundi Prime ETF range offers investors the low-cost foundation to build a diversified portfolio, based on 3 strong principles:
ULTRA-LOW COST


With market-leading fees from 0.05%1 we have used our considerable pricing power to make the price work for all investors.

COMPREHENSIVE


Investors can find the must-have building blocks of a diversified portfolio – by asset class and geography.

SIMPLE TO UNDERSTAND


The Amundi Prime ETF range is very simple: all the ETFs are physically replicated and offer a clear-cut choice of a single index provider.
An ultra low cost ETF range with market-leading fees from 0.05%1
Equity
Fixed income
To build the Amundi Prime ETF range and achieve this unbeatable level of fees without compromising on quality, we partner with Solactive, the leading index provider with over 10 years' experience and more than USD 250 billions invested in their indices.
Find out more about Solactive on www.solactive.com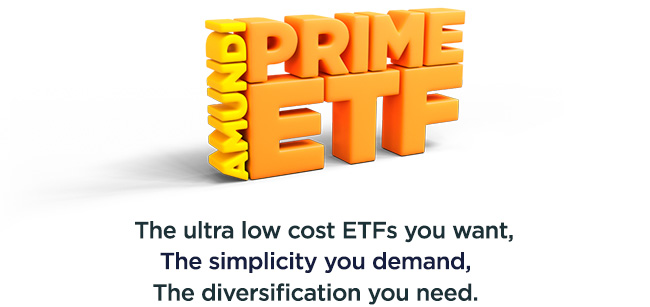 Investment in a Fund carries a substantial degree of risk such as Risk of capital loss – Underlying risk – Volatility Risk. Before any investment, please read the detailed descriptions of the main risks detailed in the DICI and prospectus.
1. Ongoing charges - annual, all taxes included. The ongoing charges represent the charges taken from the fund over a year. Until the fund has closed its accounts for the first time, the ongoing charges are estimated. Transaction cost and commissions may occur when trading ETFs.
2. Source: IPE "Top 500 Asset Managers" published in June 2021, based on assets under management as at 31/12/2020
3. Source Amundi: Comparison based on the ongoing charges (OGC) of equivalent "core" ETF ranges available in Europe. Data from Bloomberg as of 15/09/2021. Important: some individual Funds may not be cheaper than their European peers or may not have an equivalent to compare with and vice versa. Analysis excluding third party commissions/costs incurred directly by investors when trading.